How would you like to be given all of the tools that you need to create a healthy, happy lifestyle for you and your family/loved ones?
We say it every year… that this is the year we're going finally start exercising and eating right. In 2020, don't just SAY it. DO it with the…
#NutritionGoals! 90 Day Challenge
Think of the #NutritionGoals! Challenge as a 3 month adventure into creating a lifestyle that will help you feel motivated, energized, and happier than ever! Throughout this journey together, we'll learn habits and skills that will:
Shift your mindset
Nourish your body with nutritious and great tasting food,
Transform your physical body.
More Than Just Weight Loss
In contrast to a typical diet programs, which require a ton of restriction and tend to be short-lived, in this challenge, you will learn to master small, digestible tasks one at a time so that each habit becomes an integral part of your daily routine. Bonus: This is an opportunity to create lasting change for yourself and anyone in your life that relies on you for guidance and support (kids, friends, your spouse, and/or family)!!!
What You Get:
One 50 minute 1:1 intro coaching call with Nadia
A complimentary workout plan tailored to your level of fitness
Workout videos for clients from beginner to intermediate and advanced
Daily habit lessons delivered straight to your inbox (available in both audio and text form).
A weekly group coaching call via Skype
This program is great for individuals who love learning and are committed to implementing the new lessons they learn in their own lives and with their families.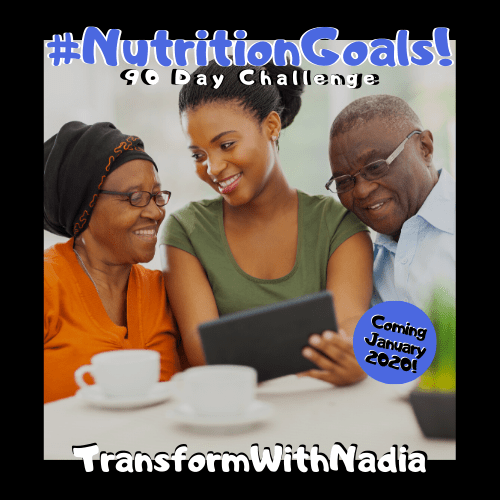 More Details to Come!
I'll be releasing more information on this exciting program in the upcoming weeks. If you want to stay up to date with this and other great programs that will help you lead a healthier, happier life, click here to get on the #NutritionGoals! mailing list!
PS – Don't forget to follow me on instagram @nslifeinfitness!