Nutrition is ONE area that most of my clients report is the HARDEST part of their fitness routine. I believe it! Preparing meals and snacks, especially as it is traditionally taught, can take a TON of time and effort. But it doesn't have to. These days, there SO many options for busy professionals and those of us who value having extra downtime in our schedules. YOU can stick to your healthy eating plan WITHOUT spending two to three hours a week on meal prep. In this blog, I'll teach you what you need to know about grab and go nutrition for busy professionals. Read to the end to find out where to get the items I recommend.
Buy Pre-Cooked & Prepped Proteins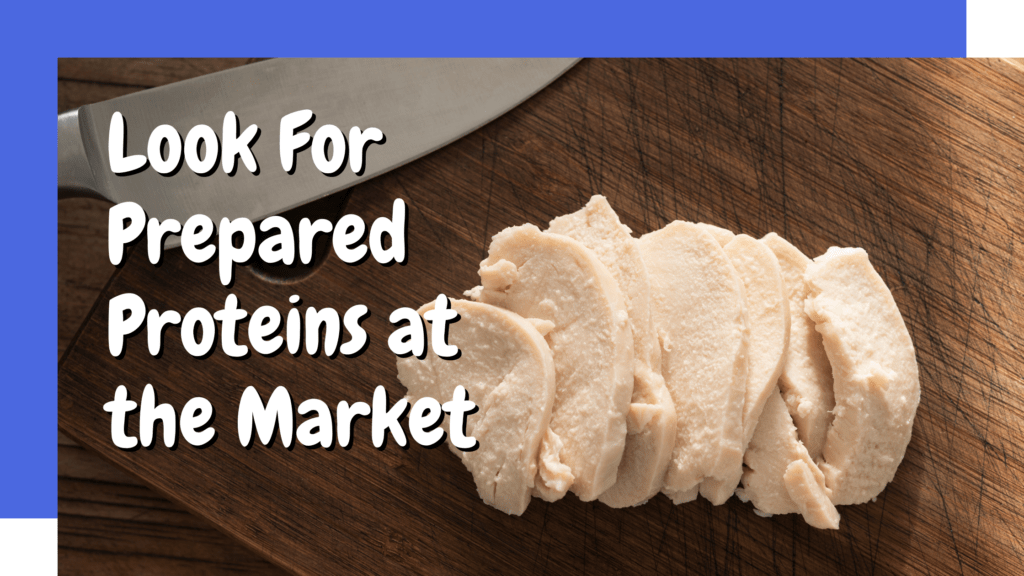 You've probably heard that protein is an essential component of a healthy eating plan. This is especially true for individuals whose workout routines include strength training. Not only does it assist your body in gaining muscle, but it can also help keep you satisfied if you're cutting back on grains, starches, and sugars. Cooking protein can be time consuming and messy. Thankfully, grocery stores offer a ton of tasty, pre-cooked, healthy options for busy professionals who are short on time. For example:
Deli meats
Hummus
Lentils
Tofu
Whole roasted chicken or baked wings
Sliced salmon
Cooked shrimp
Seitan
Green peas
Snag Pre-Cut, Pre-Packaged Fruit and Veggies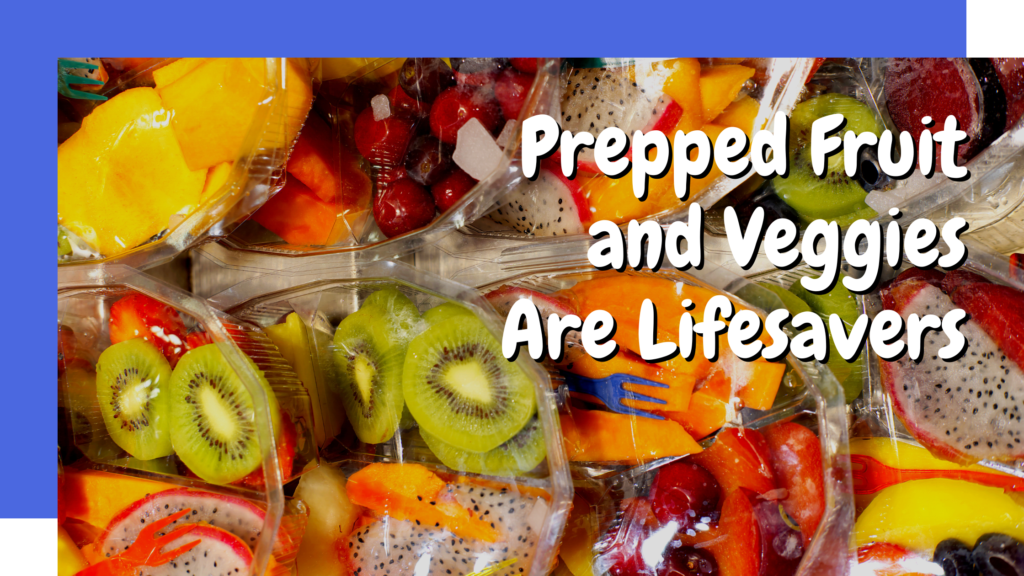 When it comes to macronutrients, the number one category that can make or break a healthy nutrition plan is vegetables. More often than not, I find that clients aren't eating as much as they think, nor are they getting in the variety of fruit that their bodies are craving. Vegetables and fruit contain micronutrients, and fiber which feeds helpful bacteria in your gut and assists your body in functioning at it's best. Get more in your diet by purchasing the following:
Pre-packaged salads
Sliced veggie platters
Sealed fruit bowls
Frozen fruit
Pre-cooked frozen veggies
Smoothies
Green juices
PS – If it's in your budget, make sure to buy organic.
Go for Staple Carbs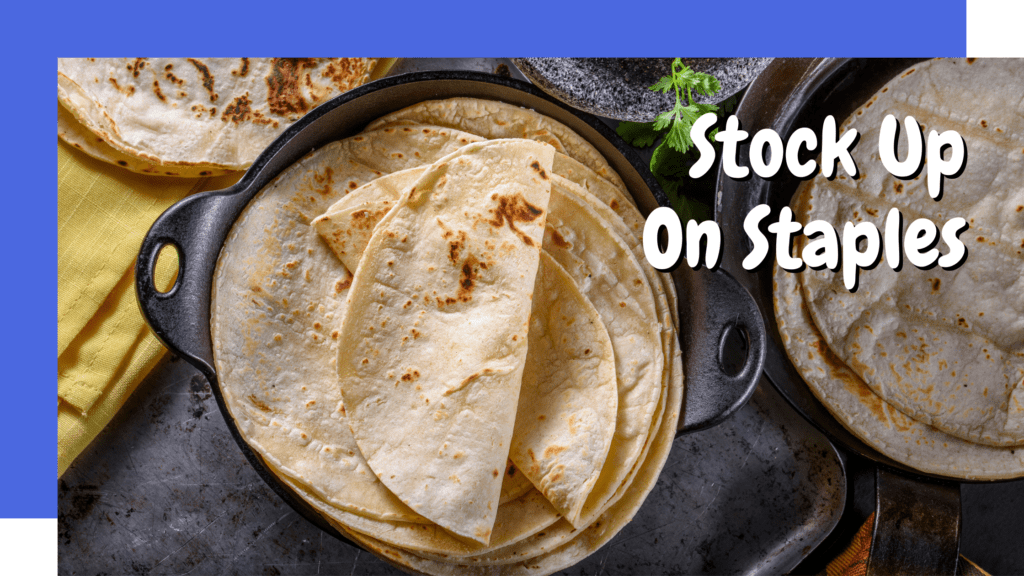 Did you think I would leave processed carbohydrates off the list? Never! As you know, carbs tend to be easily accessible. It's actually one of the reasons why most of us consume more than our bodies need. In moderation, however, eating carbohydrates is a great way to add substance to your meals. Carbs also fuel physical activity, so the more you move (i.e. workouts, a physical job, sports, etc.), the more you can benefit from them. Here are some I personally enjoy or recommend to clients:
Tortillas (preferably corn if you work from home)
Microwaveable rice or quinoa
Overnight Oats
Beans
Diced or Mashed Potatoes
Bananas
Where to Buy Grab & Go Items
If you're a busy professional, you can find many of the grab and go items I mentioned above at any grocery store. However, there are a variety of choices that may suit your preferences, values, budget, or dietary needs. Here are my favorites.
1) Wholesale Warehouses
In the California Bay Area, Costco is our go-to warehouse for groceries and general home needs. BJ's Wholesale or Sam's Club are two other options that I have seen in East Coast states like Massachusetts and New Hampshire.
2) Whole Foods Hot Bar
If you're looking for healthier choices and guaranteed vegetarian options, I highly recommend Whole Foods. Their hot bar is open almost year round. So that you know, it can be pricier than other options, but it's convenient. You can also order groceries from Whole Foods and get discounts via the Amazon app.
3) Boston Market
For a place that sells prepped meals in bulk, Boston Market is a fairly cost-effective option for anyone who loves the flavor of of home cooked comfort food. There are locations all across the U.S. and I've found that the quality is consistent across the ones that I've been to. Just be sure to make healthy selections, because there are a lot of… let's call them not-so-beneficial-for-you options too 😜
4) Local Grocery Store Delis
The deli section in most grocery stores have meats and other items that are already cooked. If you haven't taken the time to browse your local picks, you are likely missing out! There are often hot foods in the case you need a fast meals. Others are cold, so you can purchase and save in the fridge or freezer for the week. And of course, freshly sliced deli meat is a great pick to make a quick wrap or sandwich.
Know Your "Emergency" Options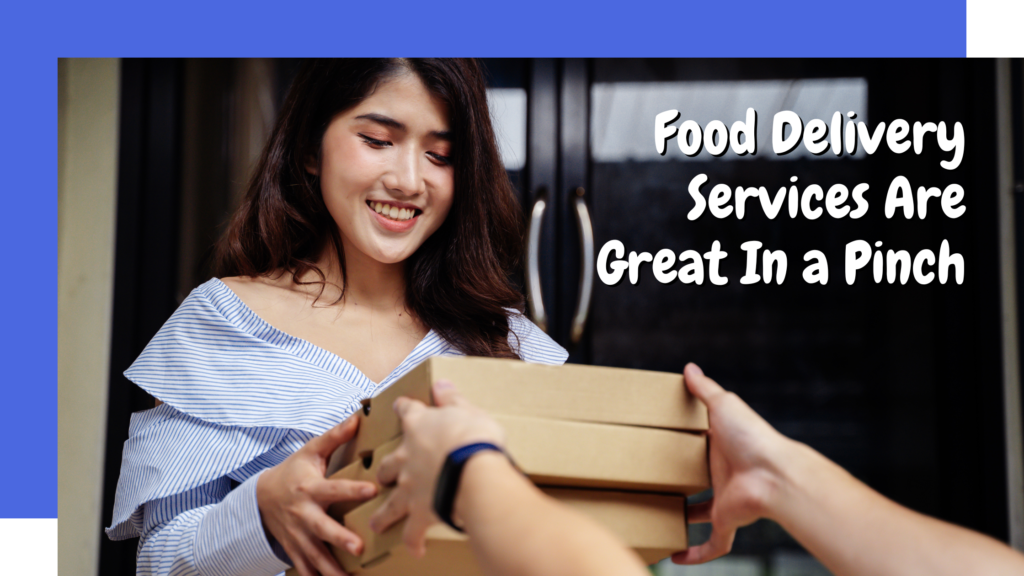 If you work in a fast-paced environment or experience days that are jam-packed with meetings, projects, or obligations you can't step away from, you may need emergency options in your back pocket to fill your nutritional needs. On those days, there are quite a few food delivery services that you can take advantage of. The biggest perk is that you can schedule your meal to be delivered at a specific time to your location of choice, so that it is available when you're ready to eat. Top food delivery apps include:
GrubHub
DoorDash
Uber Eats
Postmates
Depending on where you live, there might be local options too. I recommend you choose an app and set aside 5-10 minutes to browse healthy options in your area. Make sure to save a few restaurants as favorites so you can save time next time you put in an order.
Nutrition for Busy Professionals Can Be a No-Brainer
With the options I've provided above nutrition for professionals becomes easy peasy. Once you figure out what your favorite options are, you will have a mental checklist of go-to proteins, vegetables, carbs, and pre-made meals, not to mention the best restaurants or groceries stores in your area to get them. Put a little bit of extra work up-front to find the selections that work best for your tastes and your needs and you will reap the benefits in the long run. Good luck with your healthy eating journey. You got this!
Sincerely,
Nadia
PS – Still struggling with how to put your meals together or how to eat so that you achieve your health and fitness goals? I offer 1:1 nutrition coaching for busy professionals and others who want to live a happy, healthy life. If that sounds like you, DM me on Instagram @transformwithnadia or send me a message via LinkedIn and we'll set up a time to chat.